Wow, I can't believe I am getting 2014 summer trip photos scrapped already!
New product helps the motivation, lol.
These pics are from our trip to the Indy Zoo where there are beautiful gardens and a butterfly conservatory.
I have to explain why I am making that goofy expression in the picture on the right.
DH took it to show our kids because that is giant moth in the feeder and I get totally creeped out by moths, stemming from a rather traumatic incident in the past.
Well, it was to me anyway, but my family teases me about it.
Now to tell you about the products I used.
The background is from the awesome
I can't get enough of it.
The colors are so juicy and one side is tone-on-tone textured embossing (Thistle piece)
and the other side is an all-over pattern in white with that color (Glacier).
I hand-stamped and fussy cut each butterfly.
I will show you a little more on how I made these in a future post.
I never would have ordered this stamp set as I am usually not that drawn to butterfly images but I got this set in a package deal and I have to admit I am using those sentiments, and even the butterflies, quite a bit.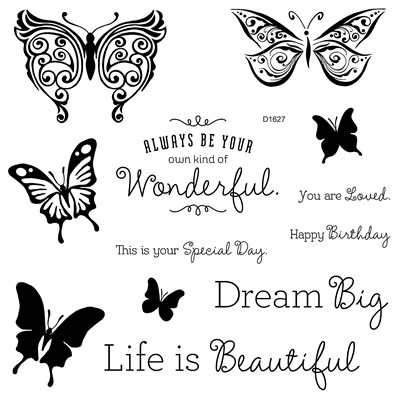 It is called "Your Own Kind of Wonderful".
The sentiments ae quite versatile for both cardmaking and scrapbooking.