Whew, I made it! Not quite midnight here yet.
I knew I wanted to scrap this photo, of DD and hubby, in honor of Father's Day.
We had lots going on this weekend so I didn't get in scrappy time until later Saturday night.
For this layout I began with a Colonial White 12 x 12 sheet of cardstock.
I cut some strips of Blossom paper and
used PML cards from the Hopscotch Set.
Even though they are different lines the colors go well together.
Thank you Close To My Heart for that planning!
I love the bright colors.
I needed a little something to accent the left corner so I turned to my tried and true
The journaling will go on the second-page of the two page layout.
We were blessed to spend our first day of summer vacation with our daughter, JoAnna,
We spent most of the afternoon at the Minnetrista Center, a beautiful garden area.
I took lots of photos but lately I've been in to focusing on the one photo I like best.
I used to think that was a waste of scrapbooking "real estate".
How about you, do you like to do one photo or fit as many as you can on a layout?
It's fun to see how our styles and tastes change through the years.
JoAnna and I recently flipped through some of her albums.
It was all about the decorative scissors and stickers in those days, LOL.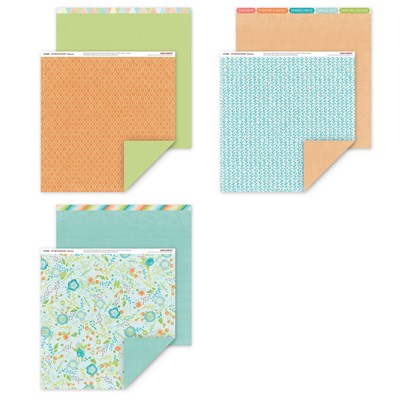 This paper packet is perfect for scrapping summer layouts.
Have a wonderful Father's Day weekend.