It's back to a scrappy Saturday feature where I try to feature a layout or two.
While I do not have any photos on these two layouts I thought I'd share since the
and PML cards are only available for a limited time, until the end of the month.
These two layouts are my tweaked versions of the ones
we got at the Close To My Heart Making Connections event in September.
The first one will be my title page to my Christmas 2015 section of my album.
I will probably use a lot of divided page protectors and PML cards to scrap my Christmas photos, just because I always have so many and this is the most convenient way for me.
The White Pines PML card set comes with numbered cards and a variety of journaling and decorative images as shown here.
The smaller accents are from the White Pines Complements.
except for the NOEL which was cut from a PML card.
The numbered cards are perfect for a
Daily December type album
or a Christmas countdown type of project.
All the cards are just perfect for quick accents or cards.
Check out how my crafty friend Marg uses these cards for her December Daily.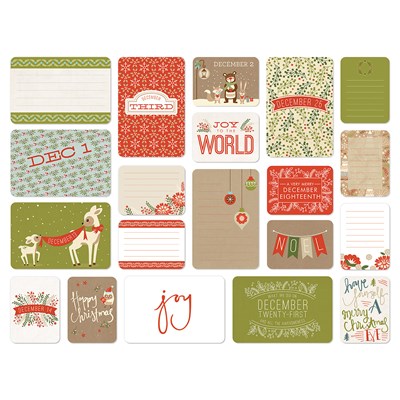 I hope you have a wonderful weekend!