This week I will be sharing artwork created with the
This nautical themed line is in the Seasonal Expressions 1 and that means it will only be around until the end of the month!
It is perfect for summer beach, shore, or lake photos.
Today I am sharing the 3 layouts that you can make when you purchase the
Regatta Workshop Your Way.
These photos are CTMH photos but later this week I will share the cards I designed using the "leftovers" and there were lots!
Here is another layout...
and the final one of 3 double-page layouts that you can make using the
I love the ease of creating these workshops and the price point.
Only $26.95 for the kit which includes:
1 full Regatta Paper Packet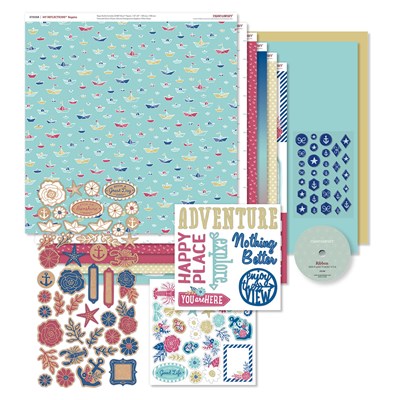 And you can download the workshop cutting guide and directions FREE.
This awesome WYW goes away after April 30th,
you can find it HERE if you want to check out the great deal you get.
I will be back to show you some fun cards created with this set.