We are right in the middle of our blog share week and what better way to celebrate than with adorable snowmen!
This set is one of my favorites (okay, I'll admit I say that alot).
I have had this one a few seasons and it gets inked up every year for tags and such.
Today I created a card using sketch number 24 from the
Make It From Your Heart, vol 1 book that is full of sketches and ideas for less than $10.
Speaking of $10 I have to share the
This year marks the 10-year anniversary of Close To My Heart's revolutionary My Acrylix
®
clear polymer stamps—and we can't wait for you to celebrate with us! With a qualifying purchase of $50 during the month of December, you will be eligible to purchase ANY C- or D-size stamps from the Annual Inspirations 2014–2015 idea book for only $10. That's up to $7.95 USD / $9.75 CAD of savings on a single stamp set! Plus, once you achieve the qualifying order total, there is no limit to the number of eligible stamp sets you can purchase at this discounted price. Remember, a purchase of $50 will also qualify you to receive the December Stamp of the Month for only $5, so if you purchase both the discounted Stamp of the Month and additional stamps at this special campaign pricing your savings will compound! It is truly the deal of the decade.
Now here is my card created with one snowman from
Isn't he cute?
I love stamping these guys in Chocolate Ink for a shabby chic look.
But they can go bright and funky too!
Here is the stamp set.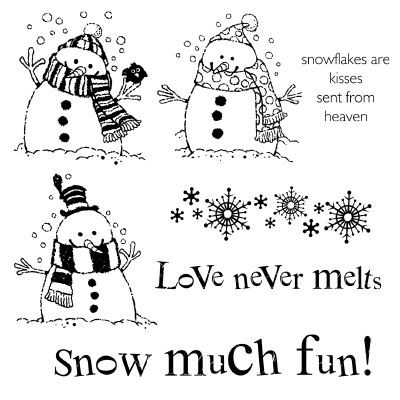 This is a C-sized stamp set, C1506 for $13.95, but with the Deal of the Decade you can get it for only $10 with a qualifying purchase, see above.
Don't forget to head on over to the incredibly creative and talented
Leave a comment on one, or both, of our blogs for a chance to win the
Handwritten Print alphabet stamp set.