Today we are sharing cards created with the
Snowhaven Workshop on the Go
Our WOTG kits are awesome as they come with a cutting guide and everything planned out for you.
You can make all 15 cards in an evening or two.
But the beauty is that when you are done you have that stamp set to create a limitless amount of cards using other papers and cardstock.
This is what the card kit looks like.
You get all you need (except for staples like the blocks and ink) to create 15 cards.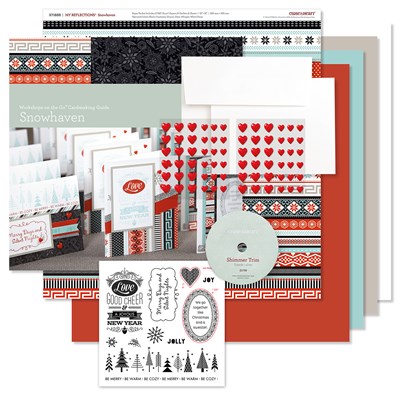 Now, here is what I did with this stamp set.
CAS but very do-able for a your entire card list.
And here is the same card layout using the same sketch,
#25 from Make It From Your Heart,
only with the Yuletide Carol papers.
Basically the same card, totally different look with the classic Christmas papers from
I highly recommend the Snowhaven Workshop on the Go Cardmaking Kit
if you still want to make your Christmas cards but haven't started yet!
Check it out on my website HERE.
Please visit my Kraft-y Heart friend Kim at
to see what beautiful artwork she has cooked up for this day of our
Christmas KISS Blog Share.