These pocket pages really helped me get more scrapbooking done this summer!
The divided page, shown above, has a lot of spaces for the 3 x 4 cards.
I felt like too many for my personal tastes.
So I took some of my less than stellar pics and cropped them way down.
Like the pic of hubby facing his nemesis, the backyard squirrel which was a sculpture in the garden. We really didn't get a good photo of either of us in the awesome walkway, which takes you under the water, by the aquatic exhibits.
Having these small pics, which I never would have deemed "scrapworthy" are included and they remind me of the fun of the day.
And pics from the Children's Mueseum of Indianapolis.
This was our first visit there with no kiddos.
It is a world-class museum and I recommend it if you are ever in Indianapolis, kids or no kids!
The story of the Terra Cotta Warriors is a fascinating one.
All the cards I used here are from the
How convenient for me that the colors matched my pics!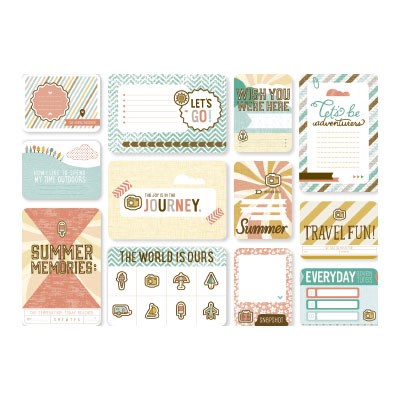 Just a sample of the 122 double-sided cards you get in the collection.
How's your summer scrapbooking going?